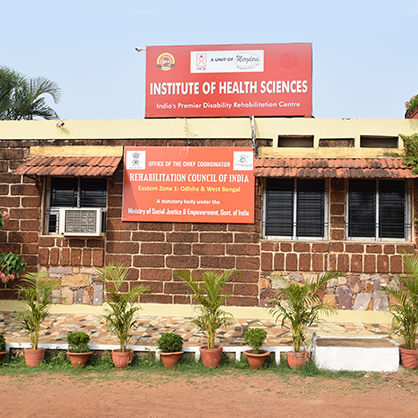 About Margdarsi
History Of Margdarsi
Disability is a challenging task not only for the affected people, but for the family and the society as well. Taking the treatment for long period of time at the big cities of India was not just inconvenient, but expensive and above all not suitable.
Odisha has its unique Odia language, friendly people with social- cultural melting pot, healthy agro-climatic conditions. This state of 45 million people needed dedicated facilities. Margdarsi was established as a Nonprofit organization for professional management of Disability rehabilitation, at the capital city of Odisha, in 1995. It started the clinical consultation services and Therapeutic rehabilitation for people with communication disorders and neuro developmental disabilities. And continued to grow from strength to strength with every roadblock. Over the years, it has evolved as the best rehabilitation ecosystem for comprehensive care. It handles all kinds of recognised Disabilities and many other disabling disorders. Dedicated to the most vulnerable segment of society, Margdarsi continue to set benchmarks in the domain of rehabilitation services.
Founder
Message
All human sufferings deserve a way out, a remedy. Those who are affected by serious disorders or disabilities need a medical solution to the problem. Margdarsi was established for providing professional services for relieving people from lifetime suffering from disability. Whether institutional care or doorstep delivery of services, Margdarsi tried to be the solution provider. Whether institutions building for professional manpower development, research and publication or arranging comprehensive clinical services for various disorders, Margdarsi has been serving the most vulnerable people since 1995. Patient centric dedicated clinics are helping people with difficult to treat conditions to drop the diagnosis. After treatment, they walk out as normal people with restoration of all functional skills. It will continue to thrive on solving health problems and developing holistic solutions for various Disabilities.
Margdarsi continues to "Redefine Rehabilitation"
Credentials of Margdarsi
Margdarsi is registered under societies registration act XXI of 1860. It is a registered Non-profit under section 12AA and 80G of Income tax act of India. It is registered for receiving overseas grants under Foreign Currency Regulations Act. It's organisations are registered under Rights of Persons with Disability Act and are recognised by the relevant departments of Government and statutory bodies of the Government of India.
Achievement
Custodial care of persons with disability is practiced by organisations all over the country, assuming that these are lifetime conditions. Such myths arise out of the lack of professional intervention to deal with the disorders at the right time. Margdarsi has worked towards weaving professional team with skills for normalisation for functional skills by rendering intensive multi modal therapy. Thus, its protocol is making children drop the diagnosis of different disabilities and live like any normal person.
Margdarsi

Institution

Margdarsi responds to establish technology solutions in the domain of medical rehabilitation, providing comprehensive services and making its institutions the Centres of Hope